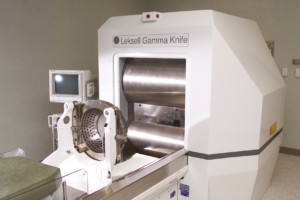 In September of 1997, the Indiana Lions Gamma Knife Center opened in the Indiana Cancer Pavilion. It has since been moved to IU Health Methodist. The Gamma Knife provides the most precise, high dose radiation treatment delivery system available. Coupled with sophisticated computer software, it is designed to deliver radiosurgery treatments to the brain and base of skull tumors. The Departments of Radiation Oncology and Neurosurgery work together to treat patients. While there are several different radiosurgerical systems available, the majority of experts in the field of radiosurgery agree that the Gamma Knife is the most precise validated by its success rates of all the radiosurgery systems.
The Gamma Knife was first located within the Department of Radiation Oncology and was the first Gamma Knife in Indiana. It is used to treat benign and malignant brain tumors, certain vascular malformations, trigeminal neuralgia (acute facial pain) and ocular melanoma (cancer of the eye). It has also been used to research radiation-induced cataracts and medial temporal lobe epilepsy. And treatment applications continue to expand. The Gamma Knife is used as an alternative to conventional neurosurgery techniques and conventional radiation therapy treatment. The outpatient procedure is a non-invasive radiosurgical technique requiring only local anesthetic. Most patients return to work and normal activities within two days.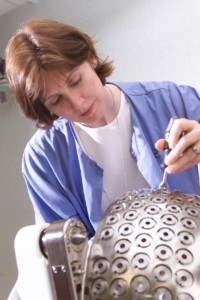 The Gamma Knife focuses 201 separate beams of cobalt-60 radiation precisely through channels in the hemispherical central body, ultimately to converge at a single point. The patient's head is positioned with a separate collimator helmet so that the targeted lesion is located at the point where beams converge. In part, the reason the Gamma Knife is so ultra precise is that the treatment machine's only moving parts are the lead-lined doors and the patient treatment couch. This results in accuracy within a fraction of a millimeter and very rapid radiation dose falloff from the targeted lesion to the surrounding healthy brain tissues. As of this date, more than 1,900 patients have undergone successful Gamma Knife radiosurgery now at the IU Health Methodist.
Throughout Indiana, local Lions Clubs have provided support for treatment machines, education and research at the Department of Radiation Oncology at Indiana University School of Medicine. Recently, one million dollars in support from the Indiana Lions Cancer Control Fund, Inc. secured the acquisition of the Gamma Knife. The Lions of Indiana have also provided a patient advocate who offers emotional and non-medical support to cancer patient and their families. The advocacy program also assists them with patient referrals to the Indiana Cancer Pavilion and accompanies them during their physician consultations.
More information about the Gamma Knife may be obtained by visiting the Elekta Corporations website (Elekta is the manufacturer of the Gamma Knife).